2015 Dodge Durango
Find a 2015 Dodge Durango at the Clint Bowyer Autoplex in Emporia, Kansas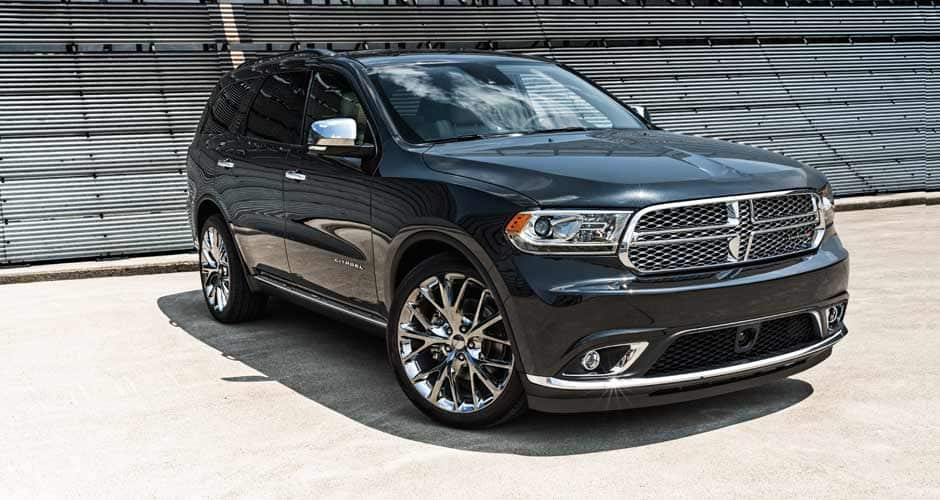 If you are in the market for a 2015 Dodge Durango, then Clint Bowyer Autoplex in Emporia, Kansas is the place to go! We are excited to offer a great selection of new Dodge Durango SUVs to satisfy every need.
In addition to Emporia, Clint Bowyer Autoplex is proud to offer the 2015 Dodge Durango to residents of Osage City, Council Grove, Manhattan, Ottawa, Lyndon and Cassoday. If you are in any of these areas and are looking for the perfect Dodge Durango, you can count on Clint Bowyer Autoplex in Emporia, KS to meet all of your SUV shopping needs.
View our 2015 Dodge Durango Inventory.
Highlighted 2015 Dodge Durango Features
3.6L Pentastar V6 Engine
Eight-Speed Automatic Transmission
600 Highway Miles on a Single Tankful
Adaptive Cruise Control with Stop
Forward Collision Warning with Crash Mitigation
Uconnect Voice Command and Bluetooth
2015 Dodge Durango Reviews
"Based on the popular Jeep Grand Cherokee, the Durango's rear-wheel-drive platform gives it real credibility as a workhorse, whether you're towing something or heading off the road. The Grand Cherokee's carlike ride and handling are present here as well, so the Durango gives up nothing to the Ford Explorers of the world as a suburban errand-runner. Imagine that: an SUV that genuinely provides the best of both worlds." — Auto Trader
"But for the most part, the Durango remains a stylish, aggressive-looking truck with available V-8 power, plenty of towing ability, and some new fuel-economy technology lurking behind its menacing face." — Car and Driver
"Thanks to its welcoming interior and excellent highway manners, the 2014 Dodge Durango is a great choice for a seven-passenger SUV." — Edmunds
Contact us directly at (620) 343-6723 to find out more about 2015 Dodge Durango SUVs at Clint Bowyer Autoplex in Emporia, Kansas!
Tags: Dodge, Dodge Dealership, Dodge Durango